We carry TeleVue telescopes, eyepieces and accessories.
TeleVue telescopes are: High Quality, Good Value, Made in USA, Compact, fast and easy to use.
Check out the Universe.
It is HUGE and full of mysteries. See with your own eyes the wonders of the Sun, Moon, Planets, Galaxies, Star Clusters, Glowing Nebulas, & Comets.
New eyepiece design breakthrough!

You are going to want one.

New Majesty Factor.

Ethos™ 13 mm Eyepiece Incredible 100 degree Apparent Field of View, 15 mm Eye Relief, Barrel Size is 1-1/4" and 2",
ETH-13 3 lbs $780 value $650

From S&T's Hot New Products for 2008
Observers have long sung the praises of low-power, wide-field views of the heavens. But that's misleading. Wide-field views are spectacular, but "low-power" got there because years ago only low-power eyepieces could show a wide field. In reality, higher magnification always provides a darker sky background, shows fainter stars, and delivers better resolution. Experienced observers usually select the highest magnification eyepiece that still has enough field of view to encompass their target. Enter Tele Vue's 13-mm Ethos, the first astronomical eyepiece with 100° apparent field of view. For a given magnification, it shows 50% more sky than the previous widest-field oculars. You can read all the details of this remarkable eyepiece in our review in last October's issue, page 41.
­Sky & Telescope, January 2008, p. 38


Ethos™: A Triple-Digit Field of View

Excerpts from Sky & Telescope, October 2007, review
by senior editor Dennis di Cicco.

A Triple-Digit Field of View

Tele Vue's new 13-mm eyepiece is about to transform deep-sky observing.

S&T RATINGS
Optical Performance
Sensibly perfect. No meaningful improvements possible.

Just as the original 13-mm Nagler set a new standard for deep-sky observing in 1981, the Ethos sets a new standard today. Owning one will guarantee long lines at your telescope during any star party.

[I]f I were dropped on a desert island tomorrow with the 12-inch scope and only one eyepiece, I'd want it to be the Ethos.

Some of the views were simply stunning. The globular cluster Messier 13 in Hercules appeared as a sprawling sphere with thousands of resolved stars, many sweeping outward in sinuous arcs.

Even under the most critical examination, bright stars look sharp and round across the entire field.

The Ethos hasn't sacrificed one bit of on-axis performance in achieving its 100° apparent field.

[T]he view of a starry sky with the Ethos and TV-NP127is is nothing short of breathtaking.

Besting the fields of other astronomical eyepieces by more than 20% in diameter and more than 50% in area, Ethos is a stunning optical achievement.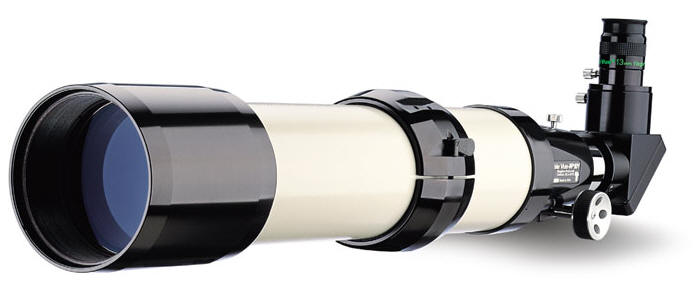 Fast service - No waiting - Telescopes will be sent right out from our inventory or from the factory to you. Many models in stock for local pick up.

NP127is
5",127mm APO, 660mm, f5.2, 4 element flatfield 4º for wonderful wide views. Hard case included.
NPI-5053 44 lbs $9000 Special $7295 In Stock

G5M-3014 Gibraltar 5 Mount 30 lbs $1155 Special $965

GAS-5016 Gibraltar 5 Mount with Sky Tour 40 lbs $2300 Special $1855

NP101is
4'',101mm APO, 540mm f/5.4, 4 element flat-field 4.9˚ @ 10x to 250x magnification, O.T.A. is 26", Hard case included.
NPI-4055 33 lbs $5600 Special $4195
NP101 4'',101mm APO, 540mm f/5.4, 4 element flat-field 4.9˚ @ 10x to 250x magnification, O.T.A. is 26", 2" Everbrite Diagonal, 1.25" Adapter and Hard case included.
NPC-4054 35 lbs $5300 Special $3995 In Stock
TV 102 102mm APO, 880mm f/8.6, 2-element, 3˚@ 16x, to 250x magnification, O.T.A. is 31", Hard case included.

WXC-4086 34 lbs $3900 Special $2685

Tele Vue 102i

TV102i similar to TV 102, but with 5" shorter tube, Bino Vue and 1x prism compensator. Designed to permit lower power, wider field binocular viewing - all in a more compact form.

WBC-4086 White 38 lbs $5200 $3650 In Stock

TV 85 85mm APO, 600mm f/7, 2-element, 4.4˚ @ 11x, to 225x magnification, O.T.A. is 19", Soft case included.
WXC-3370 White 15 lbs $3150 Special $2425 In Stock
WXP-3370 White with Porta Mount. 54 lbs $3850 Special $2790 In Stock

GXC-3370 Green 15 lbs $3150 Special $2425
TV 76 76mm APO, 480mm f/6.3, 2-element, 5.5˚@ 9x, to 200x magnification, O.T.A. is 14.5", Soft case included.
WXC-3063 White 14 lbs $2600 $1995 In Stock
WXP-3063 White with Porta Mount. 53 lbs $3300 $2065 In Stock

GXC-3063 Green 14 lbs $2600 $1995
Tele Vue-60

TV 60, 60mm APO, 360mm, f/6

TVO-2460 OTA 10 lbs $1200 Special $825

High Performance 2.4" APO doublet,
360mm f/6 objective, OTA only 10"-long — includes 2-stage 1¼" focuser with quick-focus drawtube plus fine-focus helical. Exquisitely machined and anodized all-metal construction with sliding captive dew shield. • 1¼" focuser accepts in-line Porro prism and 45º erectors, or 60º and 90º diagonals. • Maximum True Field: 4.3º (Great for terrestrial and astronomical use.) • Maximum Power: 180x (with NEW 2-4mm Nagler™ Zoom — for lunar/planetary viewing) • Adjustable dovetail balancing bar fits all camera tripods, Tele Vue mounts and NEW mounting bracket for SCTs (below). • It's a super-finder, day/night scope with great telephoto and imaging capability for digital cameras. • Includes black carry bag.• Optional padded carry case, diagonals and eyepieces available.
Porta Mount features a new design friction system allowing quick slewing to objects and 360 degree slow-motion controls for tracking. No fumbling with clutches or sectional slow-motion that run out of travel. Leave the heavy counterweights with the equatorials: simply balance scope on the altitude axis and start viewing. Standard Vixen dovetail mounting slot with lock and safety screw is fully SPHINX/GP -compatible. Mounting slot removes to reveal 1/4-20 and M8-1.25 threaded holes for custom mounting solutions. PORTA mount features interchangeable slow-motion knobs, tension adjustment and disassembly tool, built-in tool storage bay, tripod tray and aluminum legs. Tripod height to top of tripod base adjusts from 27.75" to 47.75". $700 Special $300 with telescope
| | |
| --- | --- |
| | All telescopes and eyepieces sold as is. New items have factory warranties. |