AIR Wind Turbines for 12, 24, 48 volt battery systems.
Since 1995 Made in USA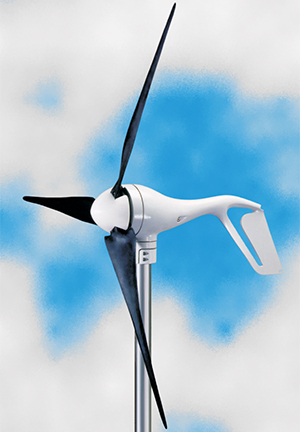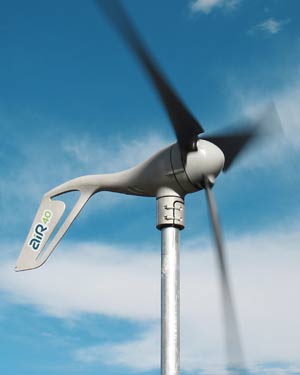 Compact, easy to mount. Has brushless permanent magnet alternator, aluminum cast body, carbon matrix rotor blades. Mounts to a 1.5" inside diameter schedule 40 steel pipe (about 1.9" O.D.). Has built-in adjustable micro-processor voltage regulator. 46" rotor diameter, 8 mph start up speed. Full power at 25-28 mph. 5 year factory warranty. Marine models are better protected for salt air environments. AIR MaX™ and Silent-X™ have quieter and slightly more durable Carbon Fiber blades. This little work horse has been in production since 1995 with continued improvements on performance and durability. Use more than one for more power.

Land Units with Gray Cast Aluminum Unpainted Body
12 volt AIR 40 W157 20 lbs $1000 Special $952
24 volt AIR 40 W158 20 lbs $1000 Special $952
48 volt AIR 40 W159 20 lbs $1000 Special $952

12 volt AIR 30 W160 20 lbs $1000 Special $952
24 volt AIR 30 W161 20 lbs $1000 Special $952
48 volt AIR 30 W162 20 lbs $1000 Special $952

12 volt AIR MaX W163 20 lbs $1400 Special $1340
24 volt AIR MaX W164 20 lbs $1400 Special $1340
48 volt AIR MaX W165 20 lbs $1400 Special $1340
Marine Units with White Painted Body
12 volt AIR Breeze W166 20 lbs $1250 Special $1199
24 volt AIR Breeze W167 20 lbs $1250 Special $1199
48 volt AIR Breeze W168 20 lbs $1250 Special $1199

12 volt AIR X W169 20 lbs $1250 Special $1199
24 volt AIR X W170 20 lbs $1250 Special $1199
48 volt AIR X W171 20 lbs $1250 Special $1199

12 volt Silent-X W172 20 lbs $1550 Special $1480
24 volt Silent-X W173 20 lbs $1550 Special $1480
48 volt Silent-X W174 20 lbs $1550 Special $1480