Kill A Watt meter Electricity usage monitor
Kilowatt-Hours, Watts, Volts, Amps, Hz, Power Factor, Volt-Amps, Elapsed Time
The cost of electricity can really hit your where it hurts. Now with Kill A Watt you can reduce energy costs and identify the real energy abuser's. Simply plug your appliances into Kill A Watt and it will assess how efficient they really are. Large LCD display will count consumption by the kilowatt-hour just like your local utility company. You can figure out your electrical expenses by the day, week, month, or year. Evaluate the quality of the electrical power provided by your utility company by monitoring voltage (Volt), line frequency (Hz) and power factor (VA). Perfect for detecting voltage drops and brownout conditions before they damage delicate equipment. Find parasitic loads and wasted energy. Monitor refrigerator, freezer, microwave oven, toaster, mixer, clocks, TV, VCR, radio, stereo, lights, fans, garage door opener, computer, monitor, printer, copier, cordless phone, battery charger, clothes washer, gas clothes dryer, vacuum cleaner, etc. The knowledge you gain from Kill A Watt can save you thousands of dollars. Maximum voltage is 125 VAC, maximum current is 15 amps, maximum power is 1875 VA, 0.01 to 9999 KWH maximum, 9999 hours maximum. Counters will reset to zero when they reach maximum. 5-1/8" x 1-5/8" x 2-3/8". Made in China.
P4400 2 lbs $45

Kill A Watt EZ meter 120 volt AC
Kilowatt-Hours, Watts, Volts, Amps, Hz, Power Factor, Volt-Amps, Elapsed Time,
Similar to above meter but with more features. Has Built-in Battery Backup and can calculate dollar costs and forecast by the day, week, month or year. Made in China.
P4460 2 lbs $60 Limited Special $45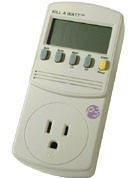 Digital Kilowatt Hour Meter
These are like the meters commonly used on houses. Easy to read mechanical digital display. Use to monitor inverter outputs, appliances, water heaters, air conditioners, etc. Mounting sockets are new, meters are reconditioned and calibrated.
120 volt AC, 100 amp M132 9 lbs $65