Solar Electric System for Sale
Purchase prices are listed. Will sell for half price or best offer.
Trace SW2512 sinewave inverter 2500 watt 12 volt with 150 amp Battery Charger $2000
6-BPSolar 590UL 90 watt, 18.5v, 4.86 amps PV Modules with premium Saturn cells 46.8"x20.9" $3000
Zomeworks UTR 055 Track Rack solar mount and tracker $900
Trace C40 Charge/Load controller $175
TriMetric Battery Monitor with 500 amp shunt $167
Trace DC Disconnect with 250 and 175 breakers $405
2 KVA T-Former auto transformer 120v/240v $300
Trace temperature sensors $25
battery connectors, cables, misc.

Used for 13 years. All items were working as designed when taken down. Can be deliver within 300 miles of Jasper, Georgia. Click on pictures for a larger image.

Alan Johnson eajohnson1@etcmail.com or phone 770-893-9109 for more information.
90 watt Solar Modules

Charge Controller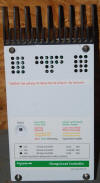 Sinewave Inverter